Google recently released a new kind of visual search result called Instant Previews. Instant Previews are a small snapshot of the webpage Google is returning in it's results. Here is an example of the AttorneySync website as seen through Instant Preview in the search results: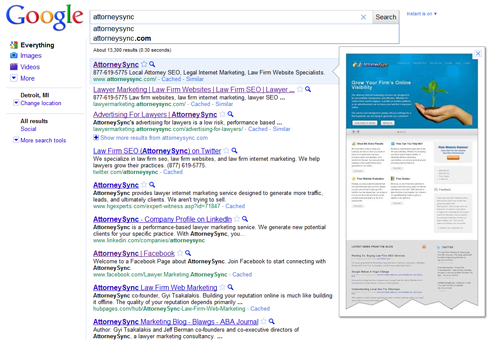 According to Google, they've found that people are 5% more likely to be satisfied with the result they click when they use the new feature. Here are a few more ways Google suggests Instant Preview might be used to help a searcher:

Quickly compare results – A visual comparison of search results helps you pick the one that's right for you. Quickly flip through previews to see which page looks best.
Pinpoint relevant content – Text call outs, in orange, will sometimes highlight where your search terms appear on the webpage so you can evaluate if it's what you're looking for.
Interact with the results page – Page previews let you see the layout of a webpage before clicking the search result. Looking for a chart, picture, map or list? See if you can spot one in the preview.
What This Means For Your Firm's Site
You'll need to take a hard look at the aesthetics of your site and make sure things appear up to date. You are going to have to start earning those clicks with more than simply a high ranking.
Here are a few suggestions for getting the most out of your Google Instant Preview:

Make sure you display your firm logo and firm branding prominently on the site
Incorporate pictures, graphics, and videos where appropriate
Make your content targeted, concise, and short. Use lists, bulleted areas, charts, etc.
Use industry awards, accreditations, membership badges, etc.
The "less busy" your site is, the better. A clean looking layout is the best direction to go in.
If you haven't had a redesign in 5-10 years, you might want to take a look around at the competition and see if your site looks dated.