I have had a number of lawyers recently ask me how to automatically post their blog articles onto the law firm's Facebook page.  While there are a number of Facebook applications that will pull in RSS feeds, most of these appear in their own section of the Facebook page.  Not on the wall of your page.  You can see an example of a separate RSS newsfeed section from AttorneySync's page below: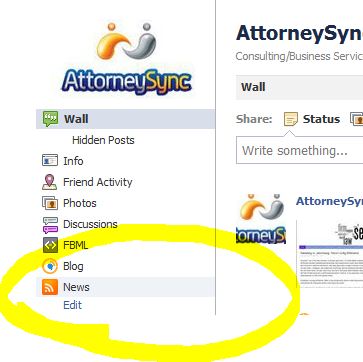 By posting articles directly onto your wall, the articles will appear in the newsfeeds of the individuals that "like" your firm's Facebook page.  This will increase the exposure of your content and deliver it to the individuals that signed up to receive updates from you.
Networked Blogs
The service I recommend for automatic wall posting is called
Networked Blogs
.  Networked Blogs is a Facebook application that allows you to register a blog, claim the blog as your own, and then syndicate the content from the blog onto your personal Facebook profile and any Facebook pages that you have admin access to.  You are not required to syndicate to all these spots, you can pick and choose where you want the posts to appear.
The Process
To get started you will head over to
Networked Blogs
and click the "Add your blog" button at the bottom of the page.  This will take you to Facebook where you will login and arrive at the Networked Blogs application.  You will click "register a blog" in the upper right.

Fill in your blog information and click next.  In the next step, the application will ask if you are the author of the blog.  You will click yes and the app will request that you verify one of two ways.  Either having Facebook friends verify or embedding a widget onto your blog (which you can subsequently remove after verification).  While it is a good idea to eventually verify your blog, this is not a necessary step to do right away.  To move ahead, you can simply click "I'll do it later" underneath the verification method selections.
This will take you to the registered blog page.  From here you can select "Set up Syndication".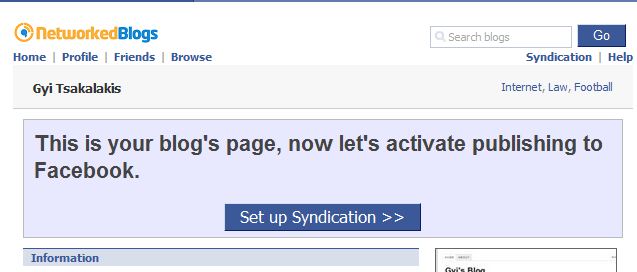 This will route you back to the Networked Blogs site to select your syndication options.  From here you can choose the Facebook profiles and pages you want the blog articles posted to.  You will also be able to select your options for what images to display with the post and whether to use the Networked Blogs toolbar.  You will also have the option of adding a Twitter account where you can automatically feed in your blog posts.