There was a time, before October of 2010, that a law firm might have outsourced their "Google Maps Optimization" to one company and the "traditional SEO" to another. Some of you might be thinking, "I still have two different companies working on my Google Maps and SEO". This shouldn't be necessary any longer. Let me explain.
Before October 2010
Prior to the local update from Google in October 2010 there were two separate algorithms used to serve up results. The first was an algorithm for local/Google Map results which was often called the 10-pack or 7-pack. This would appear on top of the traditional SEO results when someone performed a search with local intent.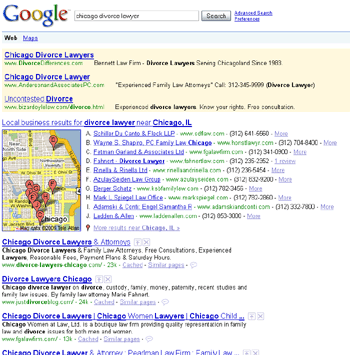 Google's other algorithm determined the traditional organic results that we are accustomed to.
The Birth of A Niche SEO Industry
The high visibility of the Google Maps results, along with the fact that a separate algorithm determined which results showed up, gave birth to a niche of SEO companies specializing in Google Maps optimization. Since law firms are for the most part local or regional businesses, many signed up with these companies.
After October 2010
Google made a significant change in October of 2010 to the way they integrated Google Maps results into the search result pages. The most significant change was that there were no longer 2 separate algorithms being used. Components of the Google Maps algorithm had been integrated into the main algorithm. Additionally, the results page itself changed so that instead of having a separate maps section, many local searches turned up "hybrid" result listings that had links to a firm's website, their places page, their address and phone number, reviews, photos, etc. right on the page.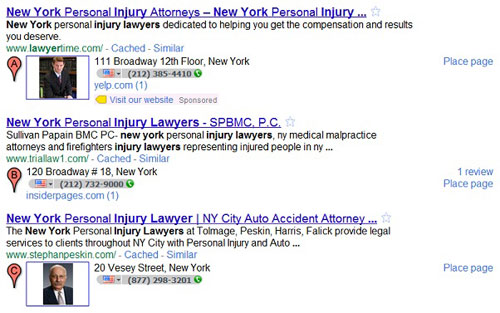 The Winners
The firms that came out on top after the switch are the ones that had a well-rounded SEO campaign. They paid attention to local factors such as citation building and consistency with your firm name, address, and phone number. They also paid attention to more traditional SEO factors such as link building, on-page optimization, site architecture, etc.
The End Result
An agency that is performing local SEO tasks for your law firm should be handling all these components for you. Because the new algorithm took all of these factors into account, performing proper SEO for a law firm includes paying attention to local factors as well as more traditional SEO factors.
If you hire a firm that says they only handle Google Maps optimization, you are essentially buying a car from them that doesn't have any wheels. In other words, just doing a few of the tasks important for local visibility, while ignoring the traditional SEO work, isn't going to get you results.