It's no surprise that getting to the top 3 spots of Google can help increase the traffic to your firm's website. However, a new study shows just how dramatic the difference in click-throughs is among the different positions on the first page.
Websites ranked number one received an average click-through rate (CTR) of 36.4 percent; number two had a CTR of 12.5 percent; and number three had a CTR of 9.5 percent. Being number one in Google, according to Optify, is the equivalent of all the traffic going to the sites appearing in the second through fifth positions.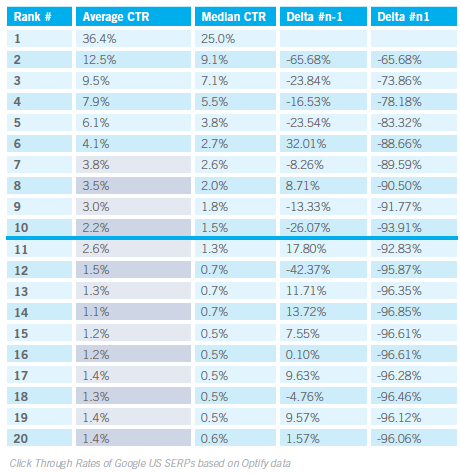 In short, getting into the top spot for a particular keyword can triple your traffic for that particular word.
Long Tail Traffic
Optify's study examined the click throughs on both head terms (keywords with more than 1000 monthly searches on Google) and long tail terms (keywords that had searches of less than 100 a month).
According to the study:
Head terms had a higher CTR (32 percent) in the number one position than long tail terms (25 percent). However, long tail terms had a higher overall CTR on Page 1 of Google than head terms (9 percent vs. 4.6 percent).
From a strategic perspective, you won't see a huge benefit in terms of traffic for your head terms until you reach the first 3 spots in Google. However, for longer tail traffic once you reach the first page you can see decent click through rates.
What Does This Mean For My Law Firm's Search Marketing Strategy?
Your search marketing strategy should target keywords you have a realistic chance of reaching the top 3 spots for (ideally position #1). Simply getting on the first page for a high volume keyword is not as effective as reaching a top 3 spot for a keyword with less volume, but one that will result in much higher click through rates because of your position.
You really need to take a good look at the competition currently ranking for a keyword at the top of the results. What does their link profile look like? What type of content strategy do they have? How old is their domain? Where are they making investments online? Without a fundamental understanding of these details, you could invest a lot of time and resources into an SEO campaign that has very little chance of beating out the current "top dogs".
The other half of the strategy is producing quality content, on a regular basis, so that you can get visibility (ie: reach the first page) for long tail keywords. This will enable you capture traffic from the segment of people that are using Google as a research tool.
The value of content production extends beyond simply attracting visits from long tail keywords. Quality content engages your visitors, converts more leads, attracts links, and develops your reputation. As my colleague Gyi Tsakalakis says:
When you boil it down, effective law firm SEO strategy involves publishing great search-mindful content and developing creative strategies to get that content in front of people who are ready, willing, and able to consume, link to, and publicize it.